People nowadays are getting more and more into gaming. They're looking for good options to ensure they have the best tools to have the best immersive experience. While gaming, it is crucial to have the best accessories to provide the best gaming experience. Some also say that the mouse they use can make or break their gaming experience. This post will list out the best gaming mouses right now in India under Rs. 1000
1. Redragon Phaser Wired USB Gaming Mouse
Redragon Phaser is India'sIndia's best pocket-friendly gaming mice, under the price range of Rs 1000, provided along with a 3200 DPI level. It contains six programmable buttons, including two custom-built thumb buttons, which allow you to adjust the mouse to your own needs.
Pros:
It is fully customizable, starting from polling rate to even the animations. You name it, and it is customizable.
It has 4DPI settings, and Max DPI is 3200.
There are braided Cables with an inbuilt tie.
It has a PMW3325 sensor which can track speed up to 100ips.
Cons:
It is a little heavy weighted but provides absolute stability.
RGB lights are not customizable.
2. Zebronics Zeb-Feather USB Gaming Mouse
Zebronics is considered one of the top-tier brands for their electronics, and in India, their mouses are highly regarded. The mouse is a remarkable quality mouse for people looking for a good mouse under a budget. This mouse, bring along with it, a DPI of 3000 and 6 buttons.
Pros:
It has the best RGB lighting option at this minimal rate.
The quality of the mouse is outstanding.
Cons:
A bit large.
It is missing Buttons that can be programmed.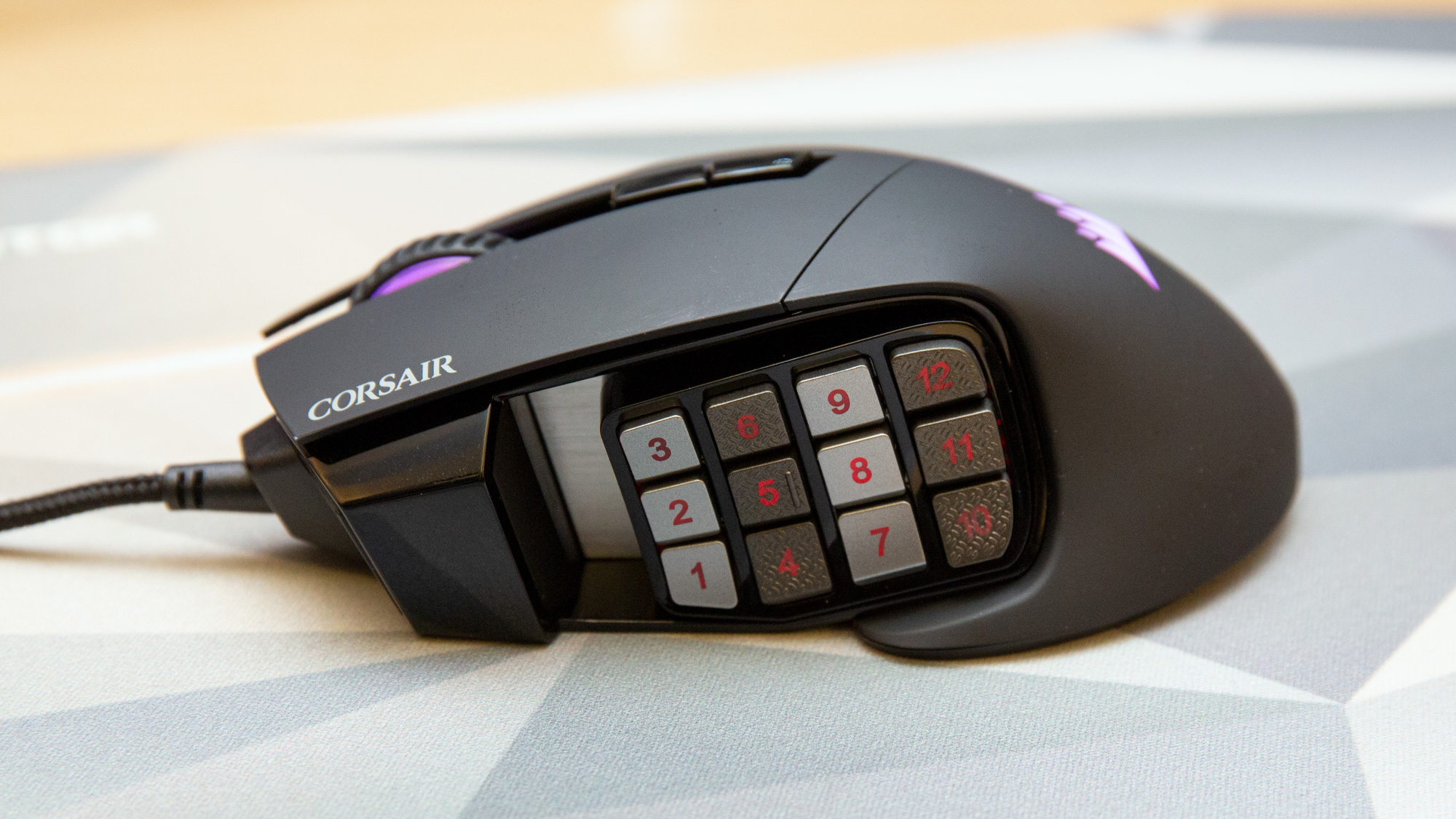 3. Armageddon Scorpion-5 Wired Optical Gaming Mouse
This mouse is regarded as a good option for gaming. It is an optical gaming mouse with 4800 CPI and Huano Million Click Switches and 5 Macroable Buttons. It is wired and has 16.8 million customizable RGB Lights and a very durable braided cable of 1.8 meters.
Pros:
It is stable and accurate because of its CPI.
The build quality is perfect and comes with a 2-way scroll.
Cons:
It is a little heavy.
The plain side does not allow for much grip.
4. HP M220 Wired USB Optical Gaming Mouse
Everyone knows the brand HP on its excellent quality products and its reliableness. For this price range, this mouse is a good option. It is a USB 3.0 compatible mouse that supports high-speed transfers. It comes with 4000 DPI resolution, and it has 2 DPI options. It also has LED lights.
Pros:
The visual aspect of the mouse is praised a lot.
It is considered one of the best you can get for FPS gaming.
Good, responsive time.
Cons:
Side buttons cannot be customized.
5. AmazonBasics Multi-Colour Gaming Mouse.
The Amazon mouse is considered an ergonomic mouse that comes with a 3200 DPI resolution. The company assures that it has the capability of 50 million clicks and provides 16 million customizable colors. Also, it is straightforward to program because it includes AmazonBasics gaming software. This gaming mouse also comes with six programmable buttons and onboard memory.
Pros:
It is lightweight (136g)
Adjustable DPI options.
Changing of DPI is easy
Compatible with Windows 7, 8, and 10.
Cons:
Its compatibility with iOS is zero.
The Sensors in this mouse are not so sharp.
6. Offbeat – Killshot Wired 7D Button Gaming Mouse.
It is a good option for the given price range. It is available with a max of 6400DPI sensors, and its DPI can be manually set into four settings such as 1600DPI, 2400DPI, 3200 DPI, and 6400 DPI settings. This mouse has seven programmable buttons, and these buttons provide you with an amazing gaming experience. It can be connected to both the USB 2.0 port and USB3.0 Ports very easily. The length of the wire with this mouse is 1.5m. It is a braided cable and guarantees absolutely no lag while playing. Its response rate is under 1ms with a 60G acceleration & 204 inches/sec speed.
Pros:
Good build quality.
RGB lights come with 16 million color sets.
Cons:
Unusually lightweight.
7. TeckNet Raptor Gaming Mouse.
Tecknet Raptor Gaming mouse arrives with Tru-Wave sensor optimization to provide high-accuracy cursor control. It has 3200DPI sensors and 4000 frames per sec frame rate. It comes with a Silver USB cable and braided wire, which is extremely durable. It has six programmable buttons, and the weight of this device is 150g only.
Pros:
The LED lights look very nice.
A good option for FPS and survival games.
Cons:
Buttons are not customizable.
8. Epaal X G901 Gaming Mouse
There is no coding needed for this mouse. It is available with 5500DPI, and eight programmable buttons make it the most well-structured and appropriate mouse within this budget. You can manually adjust its DPI setting according to your needs, such as 800DPI, 1600DPI, 2400DPI, 5500DPI.
Pros:
Adapts to Windows and iOS.
Two extra buttons.
Cons:
Too lightweight.
9. Redragon Centrophorus M601
This is considered a good mouse for this price range with an ergonomic design and a resolution of 3200 DPI, and a 15G ACC super-fast game engine. It has 5 programmable buttons and LED color options. The cartridge clip is on the bottom of the mouse, which helps you adjust the mouse's weight to your taste by placing the lead weights accordingly.
Pros:
Suitable hardware for good performance.
Fantastic design and grip.
Cons:
Lacks programmable buttons.
10. MARVO Optical Gaming Mouse.
Marvo gaming mouse works on Windows Vista, Windows XP, Mac OS. It has a 2400 DPI resolution and wired connectivity. It is a perfect mouse for gamers and works well with a suitable DPI. It is a classy gaming mouse and is a good option for the price range.
Pros:
Quality wires.
Great design.
Cons:
Slightly bigger size.
What To Look For Before Making a Purchase
Weight of Mouse
To get amazing control while playing a heavy game, a lightweight mouse will work much better than a heavily weighted mouse. A suggested maximum weight of 150gm would be the best option.
DPI Level
For the price level, the most would be 3500 or 4000 DPI. However, 6000 DPI is considered the best while playing hardcore games, but some gamers still use 800, 1000, and even 1600.
Response Time
The optimal response time to play hardcore games is a 1ms response time or more minor or 1000Hz polling rate. The response time is an integral part of gaming and can have a considerable impact on it, so it should be looked at carefully.
Programmable Buttons
Gaming Mouses usually come with programmable buttons that allow the user to access particular actions called macro. These buttons will help you out in controlling games better. Usually, you get six buttons in the normal gaming mouse: the thumb button, backward, forward, left thumb, back motion buttons, and right button.